With twelve resorts, more than 300 slopes, and 600 km of winter sports fun, Les Portes du Soleil is so vast it's hard to know where to start! Lucky for you, these seven unmissable day-trips will help you choose your own ultimate Franco-Swiss skiing experience.
1. Viva le Village des Chèvres & Stash Fun Tour
In summer, Les Lindarets is home to some 200 free-range goats, which is why locals call it the Goat Village. In winter, there's nary a goat to be seen, but this picturesque plateau bustling with quaint alpine restaurants at the crossroads between Les Crosets, Avoriaz, and Châtel is not-to-be-missed! Just nearby, deep in the forest at the heart of the Avoriaz sector, the Stash is an ecological snowpark with modules made of creatively repurposed deadwood.
| | |
| --- | --- |
| Duration | 4h (1/2 day) |
| Level | Easy |
| Points of Interest | Grand-Conche summit › Abricotine slope › Les Lindarets Goat Village › Stash › Grand-Paradis |
Fact or fiction? Just before dawn on a moonless winter night sometime in the 1940's, a group of smugglers carrying a shipment of apricot brandy from the Valais were on the run from French border patrol officers. During the chase, the smugglers overturned their sledge, spilling their precious cargo into the snow! Today, the busy ski slope between Les Crosets and Les Lindarets is called 'Abricotine', and legend has it that every now and then you can even catch a tempting whiff of the alcohol that soaked into the hillsides on that fateful night.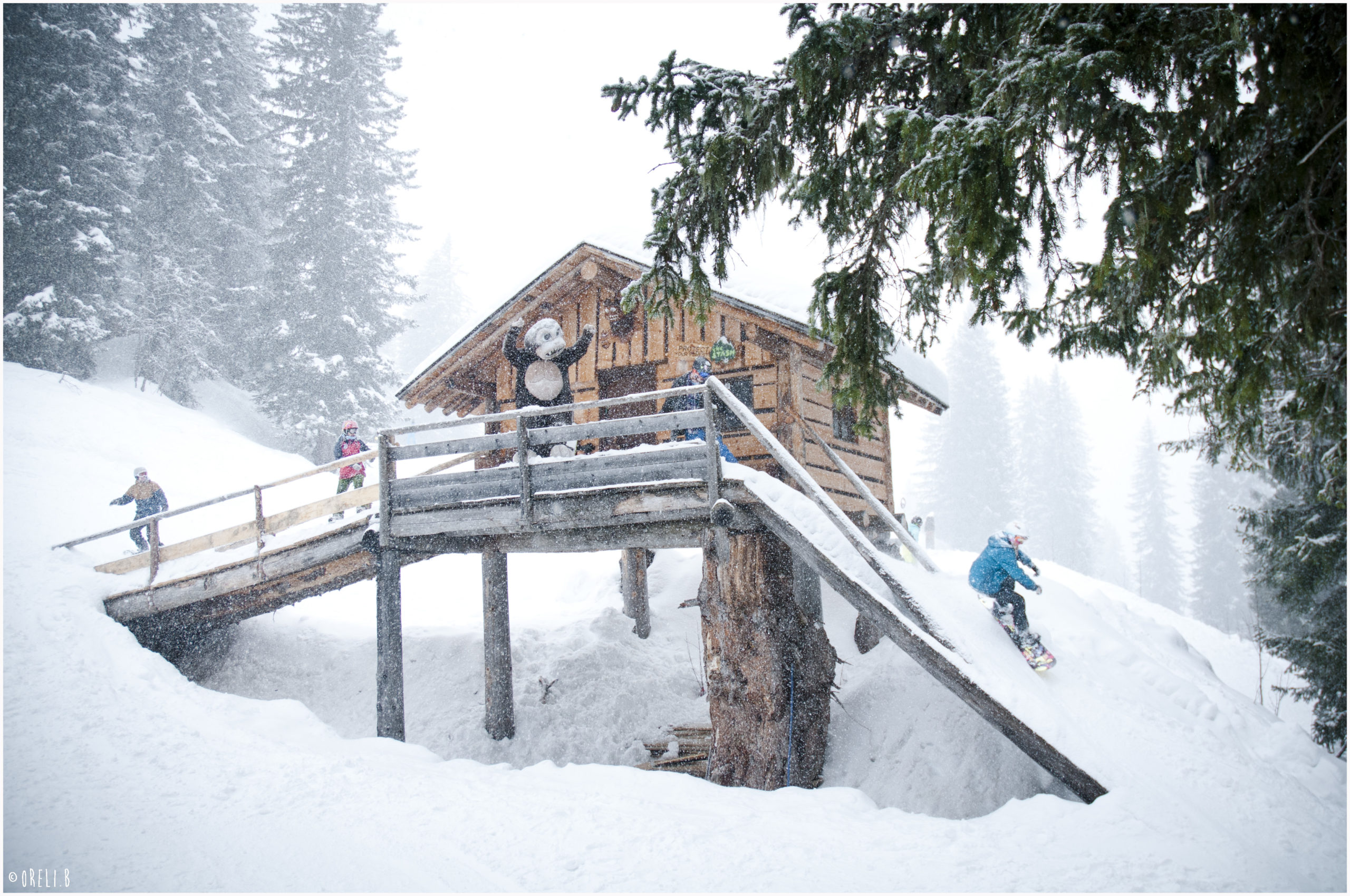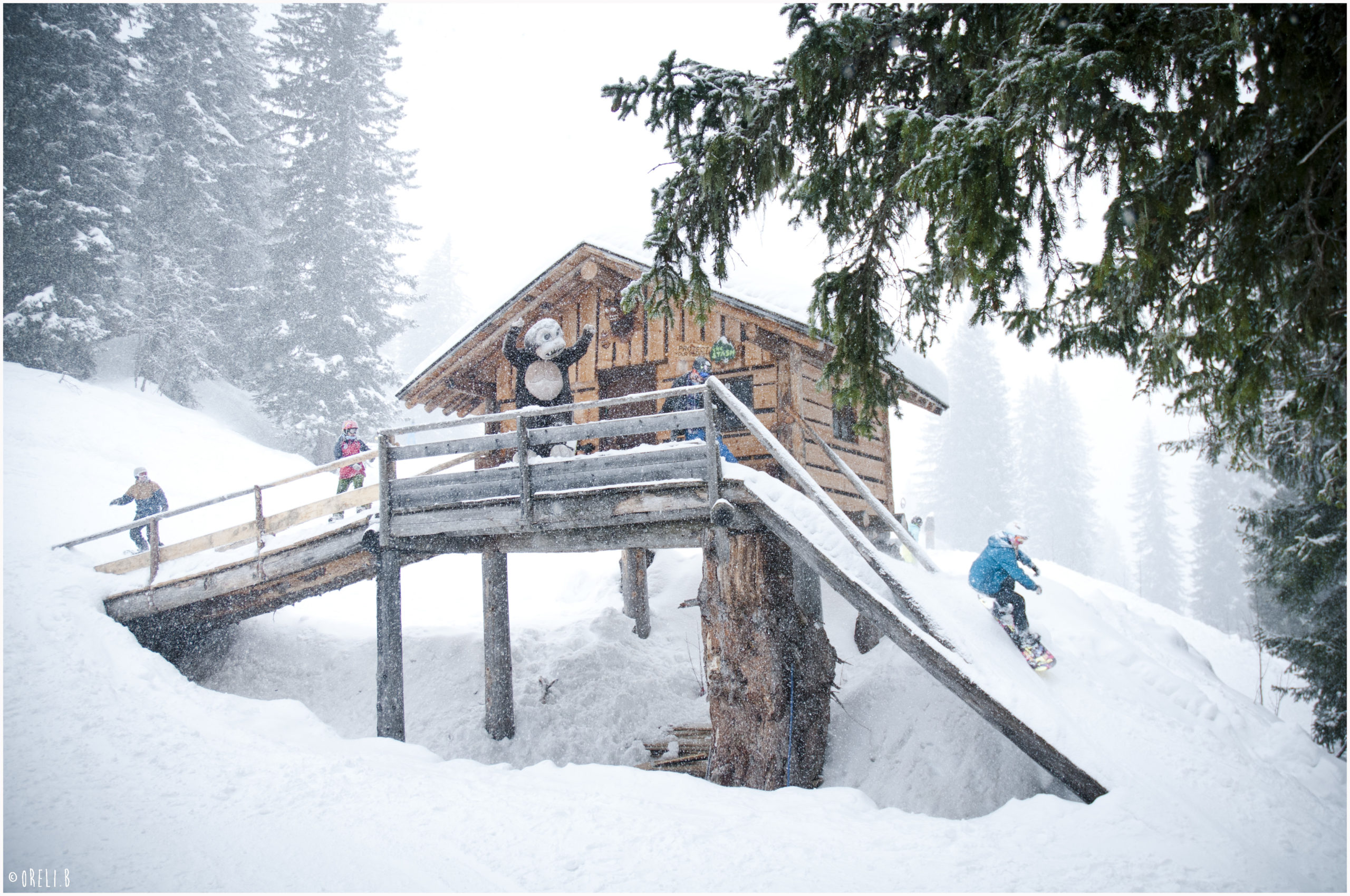 2. Swiss Bliss Tour
With 100 km of terrain, four unique alpine resorts, and over 30 ski lifts, the Swiss side of Les Portes du Soleil is a winter wonderland just waiting to be explored! Come discover what really sets Switzerland apart…
| | |
| --- | --- |
| Duration | 4h (1/2 day) |
| Level | Intermediate |
| Point of Interest | La Foilleuse summit panirama › Bochasses Rivella Fun Zone › Les Crosets Superpark › Pointe des Mossettes summit › Portes du Soleil Pass |
Land of character and home of champions… In the foothills of the Dents du Midi, winter sports are a way of life, which may be why we've raised more than our fair share of elite athletes – like Didier Défago, downhill gold medallist at the 2010 Vancouver Olympics; Yannick Ecoeur, ski mountaineering champion and winner of the legendary Patrouille des Glaciers ski race in 2010; and Camillia Berra who represented Switzerland in the slopestyle ski events at the Sochi Olympics. A new generation of talented young athletes are poised to continue the winning tradition and keep Les Portes du Soleil at the vanguard of sports and leisure destinations!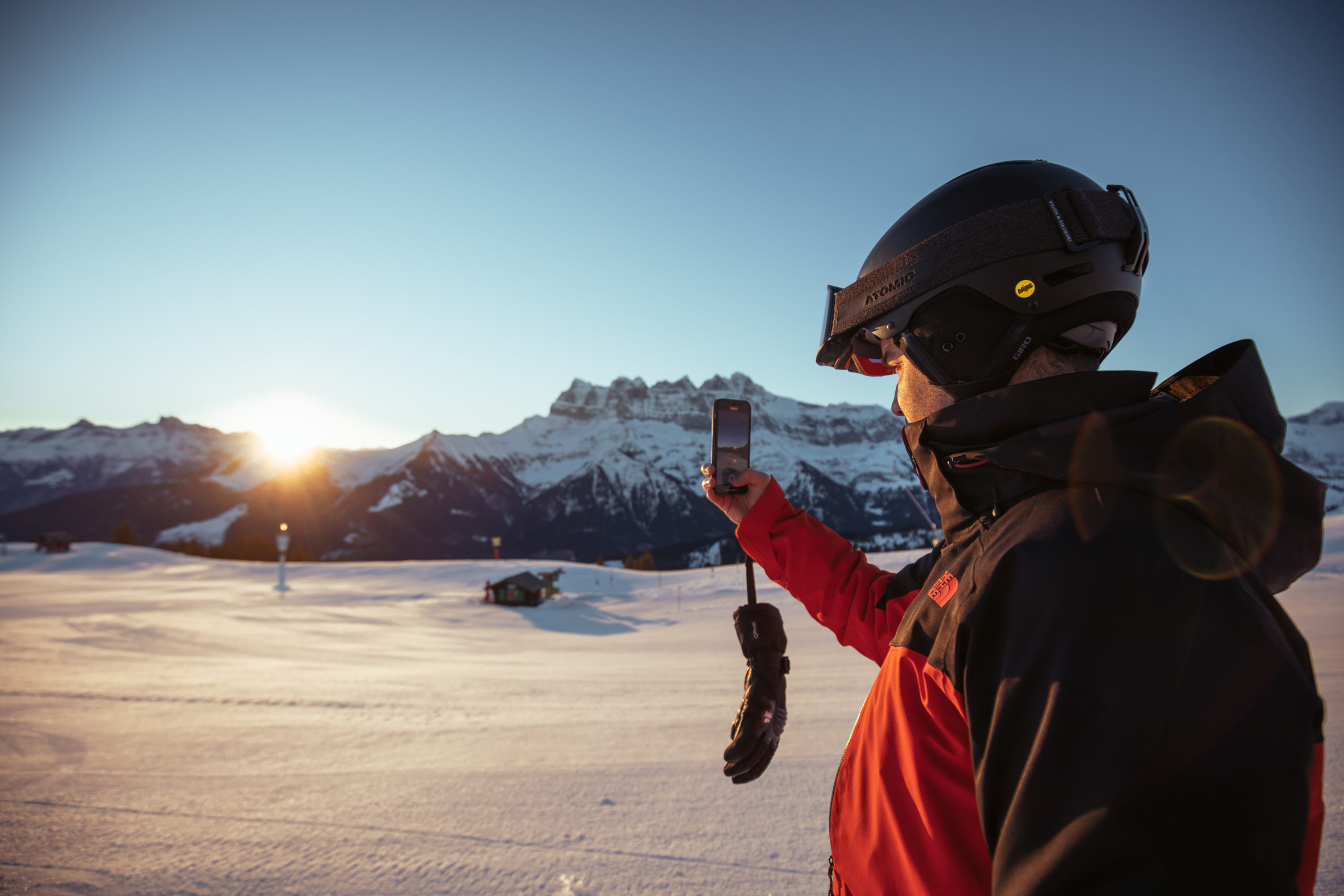 3. Let's Gets to Morzine and Back Tour
The Les Gets – Morzine sector is the farthest you can get from the Swiss resorts, but well worth the effort for bragging rights alone, not to mention the spectacular scenery along the way.
| | |
| --- | --- |
| Duration | 6h (full day) |
| Level | Advanced |
| Points of Interest | Pointe de l'Au summit panorama › Morzine village › Les Gets village › Mont Blanc panorama › Portes du Soleil Pass |
The Indomitable Turche of Les Gets… The Turche drag lift is 75 years old and one-of-a-kind! All the lifts in Les Gets-Morzine belong to the SaGets lift company, except for the charmingly vintage Turche, which has been privately owned and operated since Georges Combépine built it in 1946. Today, Christelle, Georges' granddaughter, faithfully soldiers on, keeping the lift running, the music playing, and this famous Haute-Savoie institution open for business.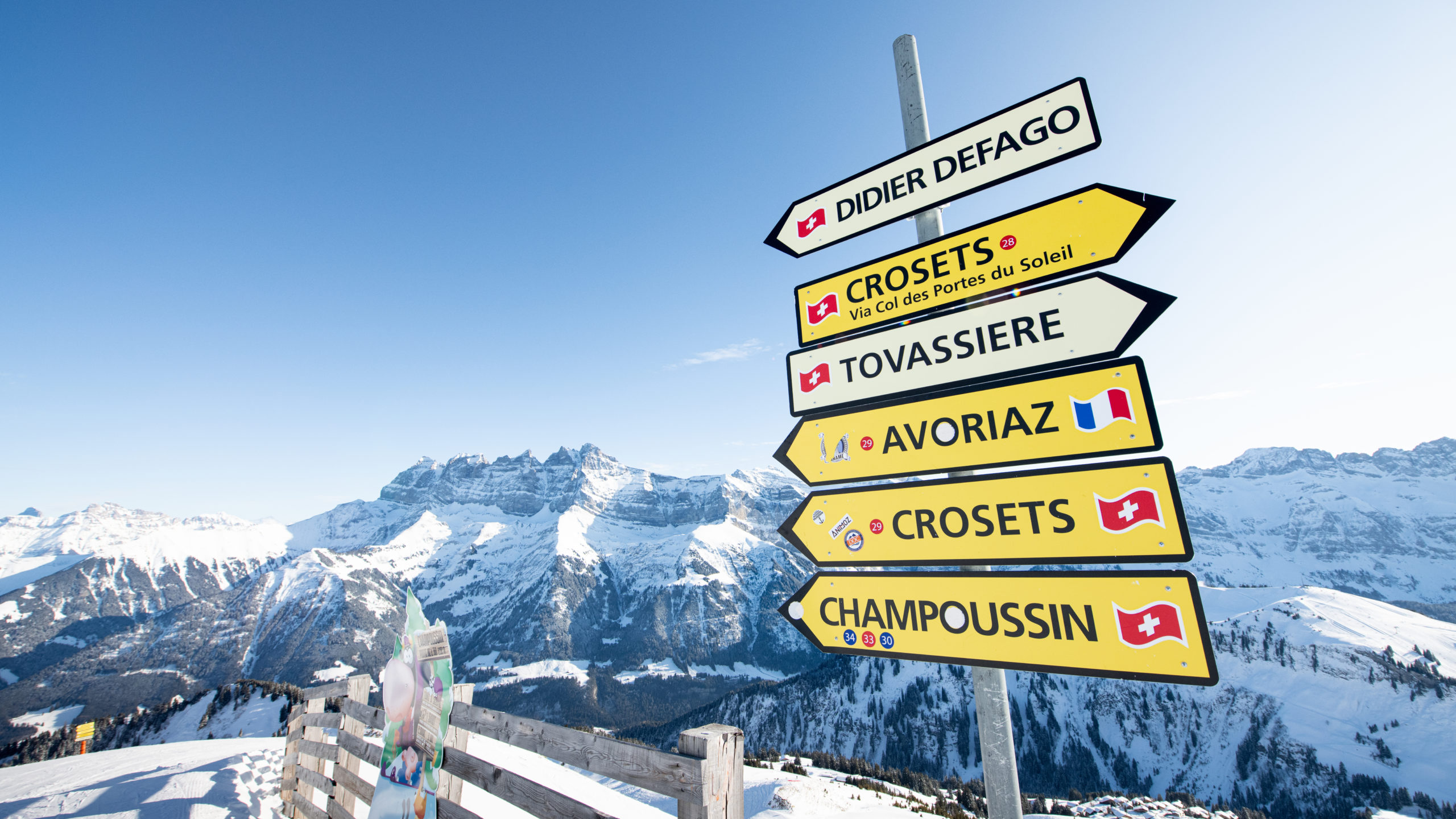 4. Torgon Powder Hounds Tour
Perched on the border with France, Torgon offers a this-side-of-wild playground with the best piste edge powder in Les Portes du Soleil! In fact, skiing the ungroomed edges of the ski slopes is an art form here, offering ideal conditions for anyone seeking safer powder.
| | |
| --- | --- |
| Duration | 5h (day) |
| Level | Advanced |
| Point of Interest | Didier Défago black slope › Morclan summit panorama › Views of Lake Geneva › Torgon freeride itinerary › Morgins Carillon Pour la Paix |
A 250 year-old chapel… Near the Auberge de La Bourri sits a tiny, unassuming structure with a long and illustrious history. Built more than 250 years ago, the Chapelle de Recon has been a refuge for countless generations of weary pilgrims and faithful locals seeking shelter or solace from the harsh conditions of alpine life. Even Abbé Pierre, founder of the Emmaus Community, stopped here for a moment of quiet meditation and prayer. His visit, on September 2nd, 2003, spurred a movement to renovate the chapel and host an annual mass every July.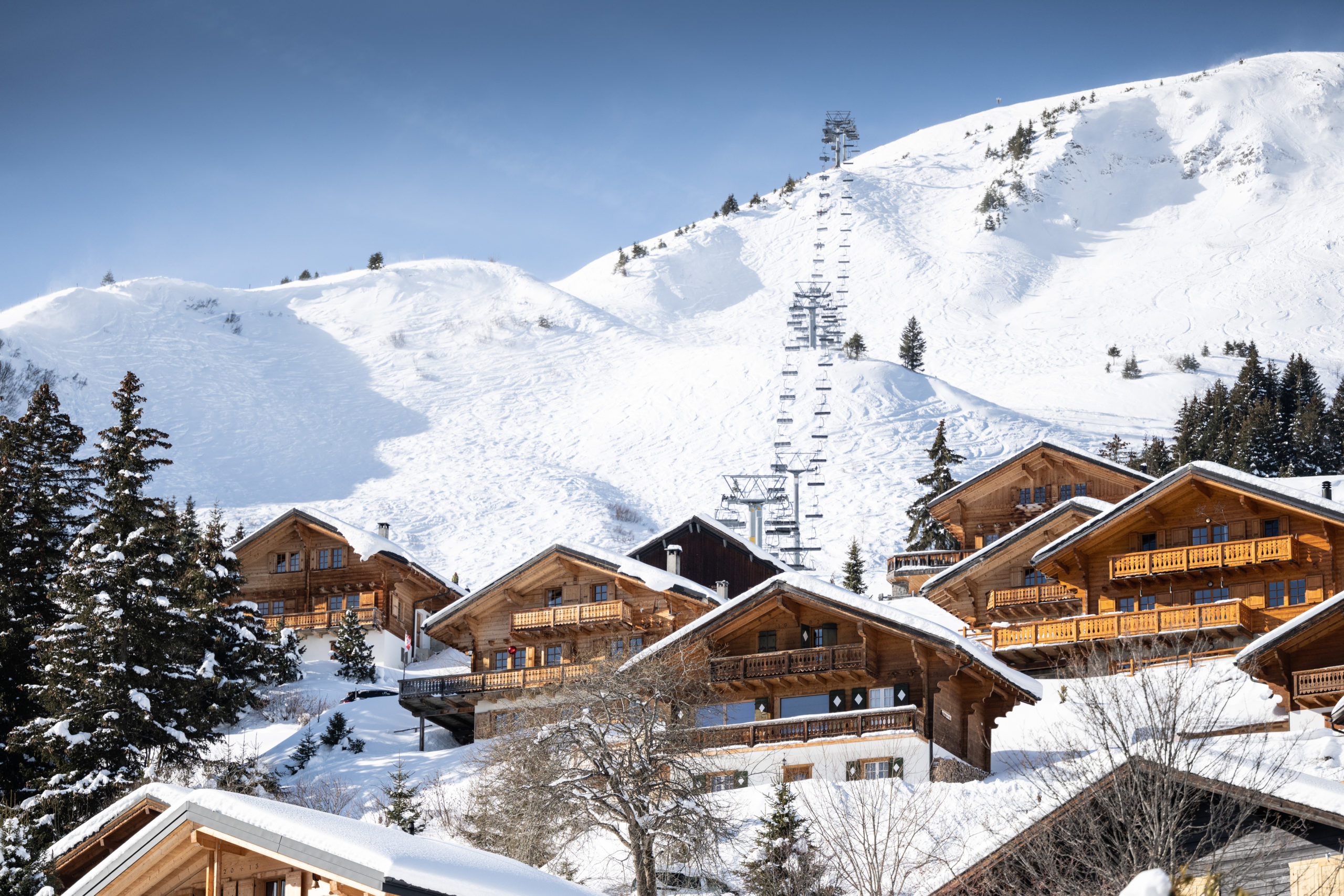 5. The Need for Speed Experts Only Tour
If speed is what you need and you're here to hit the slopes, carve turns, and ski till your thighs burn, you won't want to miss this challenging loop with two, or three, legendary black slopes!
| | |
| --- | --- |
| Duration | 6h (day) |
| Level | Expert |
| Point of Interest | Les Crosets race slope › Grand-Conche summit panorama › Coupe du Monde slope › Chavanette – the Swiss Wall › Didier Défago slope |
The Swiss Wall… Don't let the French flags flying at the top of the run fool you! Lest anyone be mistaken, the Swiss Wall is indisputably Swiss. The Chavanette Pass marks the border between the two countries, but the Wall itself, one of the world's most challenging black slopes – thanks to its unforgiving, ungroomed 70% pitch of massive moguls – is pure Swiss alpine adrenaline.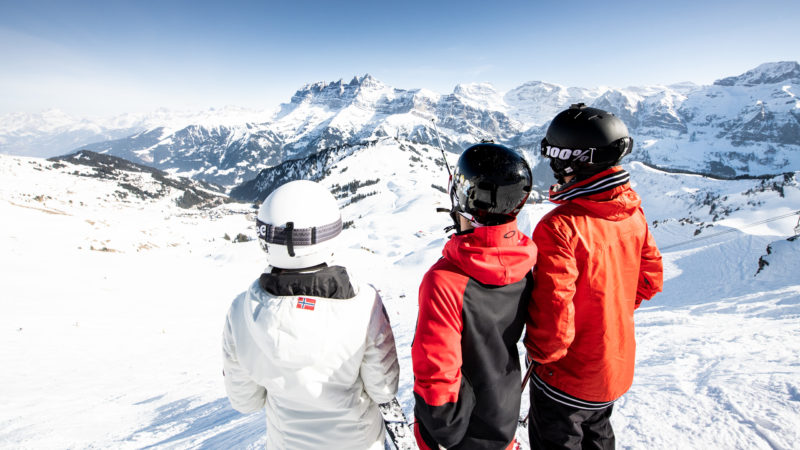 6. Ski Unlimited Franco-Swiss Tour
Over 50 years ago, our visionary predecessors realised that their passion for the mountains and love of winter sports transcended politics and borders. Today, in Les Portes du Soleil, the border between France and Switzerland is all but invisible, the possibilities are endless, and our backyard stretches as far as the eye can see.
| | |
| --- | --- |
| Duration | 6h (day) |
| Level | Intermediate / advanced |
| Point of Interest | Les Lindarets › Plaine Dranse hamlet › Linga slope › Portes du Soleil Pass › Croix-de-Culet summit panorama |
As the crow flies… Did you know that the first Franco-Swiss lifts were named for birds? In 1956, a whole nine years before the creation of Les Portes du Soleil ski area, the Coq (Rooster) and Corbeau (Crow) ski lifts from Châtel were already winging skiers across the border. The Coq lift was truly international, with its departure station in France and its arrival station in Switzerland! Quite a feat, when you think that just 15 years earlier, border crossings were strictly controlled on both sides!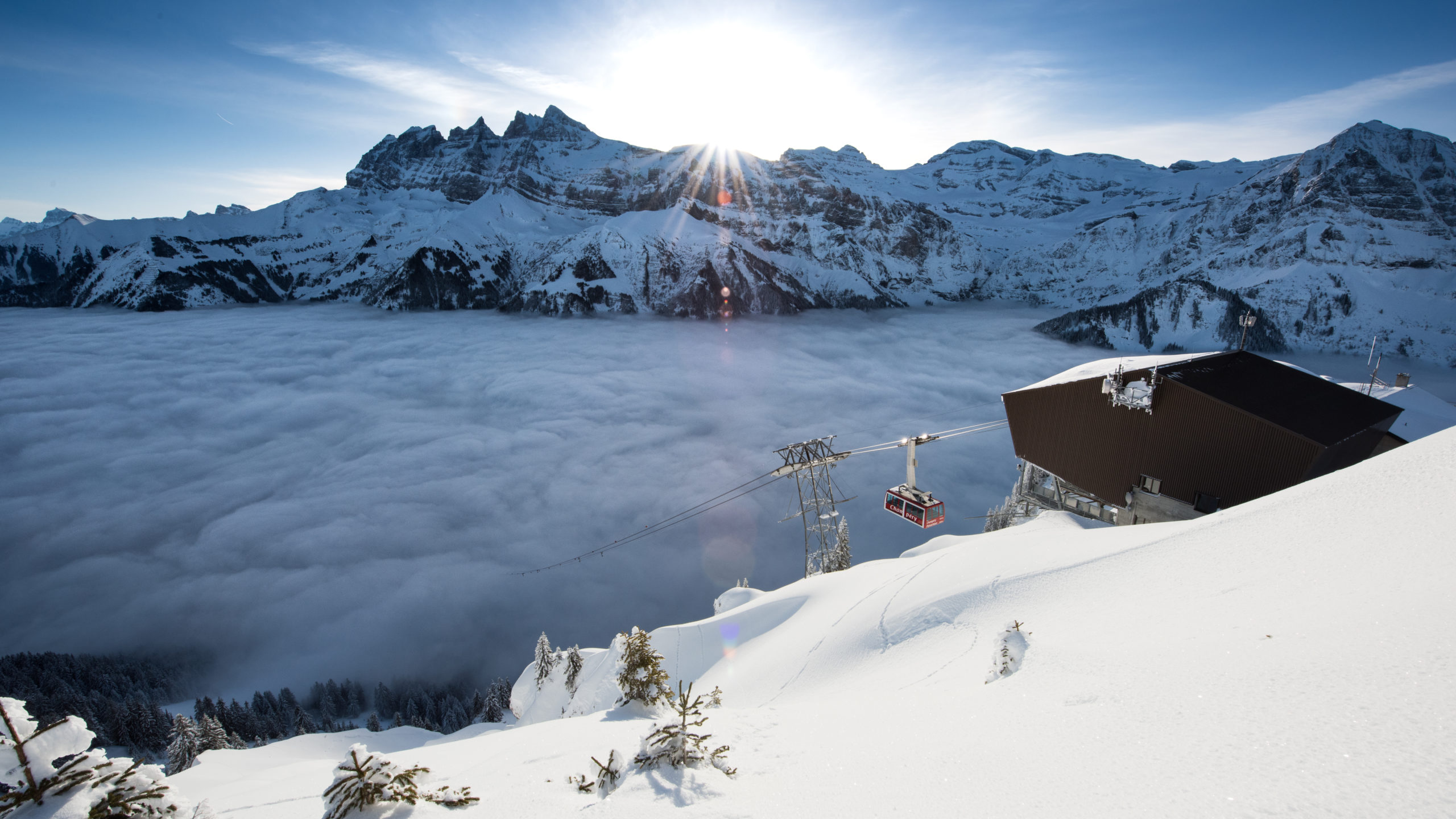 7. Les Portes du Soleil Ski Safari Tour
In Romandy, when someone says they're "not here to buy land", it means they've got no time for lollygagging. You'll want to keep that in mind on this massive loop tour that circles Les Portes du Soleil, hitting every sector along the way.
| | |
| --- | --- |
| Duration | 6h (day) |
| Level | Intermediate |
| Point of Interest | Tovassière › Plaine Dranse hamlet › Avoriaz › Mont-Blanc summit panorama › The Swiss Wall |
The Swiss pass that became a legend… The inspired project to create the world's first international ski area was dreamed up in the early 1960's by the famous skier Jean Vuarnet, who was in charge of creating the resort of Avoriaz at the time. In 1964, a model of the 'Haute Route des Familles' was presented at the Swiss National Exhibition in Lausanne. The following year, in a brainstorming session in Grand Paradis, Gustave Trombert proposed a more media-friendly name inspired by a pass near Les Crosets and Les Portes du Soleil was born.