In response to the return of large carnivores (such as wolves) to our region, farmers are increasingly using guard dogs to protect their herds. Here are a few tips on how to interact with the dogs (Patou or other shepherd dogs) and their herds.
safety tips
Stay calm and allow the dog time to make sure you do not pose a danger to their herd.
Avoid disturbing the herd. Keep your distance from the animals and, if possible, bypass the herd.
The guard dog follows you when you move away. Ignore him, he will soon return to his flock.
If you are riding a bike, get off and walk next to it.
Never provoke the dogs; do not threaten them with sticks or make sudden movements.
Never feed or attempt to pet the dogs.
If you perceive livestock guardian dogs as a danger avoid eye contact with the guardian dog, but do not turn your back, and retreat.
If you fear for your safety, stay calm and retreat.
Avoid nighttime hikes. At night, guard dogs are particularly reactive.
In order to avoid any potential problems, we strongly advise you not to hike with your dog in areas where herd protection dogs are stationed. Guard dogs see your pet as a threat and will react accordingly. In the event of an unexpected encounter with a guarded herd:
Keep your dog on a leash
If there is a confrontation between the two dogs, let go of your dog's leash. They will quickly establish a hierarchy
Do not cross through a protected herd with your dog
Pass by the herd, giving it as wide a berth as possible
If in doubt, turn back
Mountain pastures Live MAP
Above, are the areas marked with
where there is a risk of encountering herd protection dogs. These zones are updated daily using a GPS beacon that detects the presence of a dog in the area. They will also be visible on the pages of our hiking trails or on the Outdooractive platform.
This pilot project, set up by the supplier Alpes-éco, was developed in partnership with the agricultural department of the canton of Valais.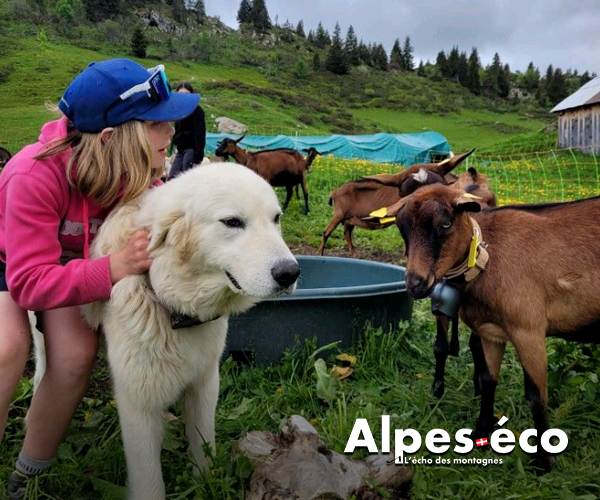 Useful numbers
| Contact | Phone number |
| --- | --- |
| Champéry tourist office | +41 24 479 05 50 |
| Morgins tourist office | +41 24 477 23 61 |
| Mountain rescue | 144 |