The very first Rando-Parc in Valais !
In december 2016, Morgins announced the creation of the very first « Rando-Parc » in Valais. A few hours of course setting and a few centimeters of snow later, the ski resort in the Portes du Soleil was ready to great their first ski tourers.
The Morgins touring tracks offer a unique experience and a safe environment, tracks that are sponsored by Movement do also have for objective to optimize cohabitation between alpin skiers and ski tourers. A real training ground open to all levels, Rando-Parc wishes to send a message, a message which is the respect of the environment, the respect of the mountains and the respect of each other.
Three red tracks, three blue and one black are now in total for the Rando parc, with durations from 35 mins to 2 and half hours and with an average of 600m height difference. An info pannel is set at the start of all the different tracks on the "Place du 6 Août", so that you get the necessary information and a brochure is available at the tourist office with all the details and contacts.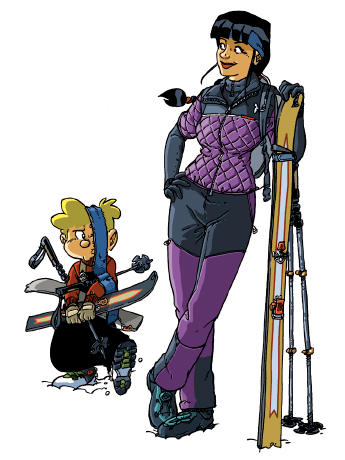 Discover the initiatory trail for beginners
Before you start, don't hesitate to go through the new initiatory trail on the blue track "La Jaune", punctuated with tutorials for beginners and those who wish to refine their technique. Explanatory panels describe the right gestures to adopt in ski touring: "skinning", "de-skinning", conversions, avalanche victim search… Ideal to learn or work on your technique! Little extra: additional explanatory videos are available with the help of a QR Code!
Safety tips
The descents on the tracks are closed outside the hours of operation of the ski lifts (before 08:30 am, after 4:30 pm) with the exception of the foilleuse track (until 9:30 pm).
Off-hours slopes are not protected against hazards such as avalanches or grooming equipment with a winch or cutter.
Région Dents du Midi and Movement Skis disclaim all responsibility in case of an accident. Please respect the safety instructions.
Anyone who runs the closed tracks does so exclusively under his own responsibility.
Recommended equipment
a DVA engaged, in "transmission" mode
a shovel
headlamp
a helmet
a mobile phone
a probe
Useful numbers
Morgins tourist office
For any information concerning the opening / closing of the tracks.
Emergency numbers
Avalanche Bulletin (SLF)
our tracks